About Us

Pastor's Welcome 

                  
I would like to personally welcome you to St. John's United Church in Emmaus. St. John's is truly a special place! If you are looking for a church home, I welcome you to worship with us and read about our many ministries on this web site. If you do have the opportunity to worship with us, please introduce yourself to me. I am really interested in meeting you! 
Once in awhile, people ask me: "Why should I become a member?"
"...You are a member of God's very own family..and you belong in God's household with every other Christian." --Ephesians 2:19
Personal sense of belonging. By choosing to become a member, you are making a conscious choice to identify with and bcome part of this church family.
Personal significance.  Becoming a member will open up new opportunties for you to serve in significant roles within our church family. 
Personal development. By committing yourself to become a member, you will have a greater focus to use and develop your gifts, abilities and serving skills and leadership within our church family.
Personal Accountability. By becoming a member of this church, you are committing yourself to a path of spiritual growth, Christian maturity and godly service. Through the relationships you choose to build, you will become more accountable to others in your spiritual journey.
                                                          In Christ,
                                                          Rev. Dr. Paul W. Knappenberger
St. John's UCC Mission Statement
We, the members of St. John's United Church of Christ, Emmaus, rooted in God's love, faithful to Jesus Christ, and relying on the power of the Holy Spirit are called...
To worship and glorify God.
To continue to work together to share our faith and love with all people.
And to both teach and bear witness to the good news through our daily living. 
Church Staff: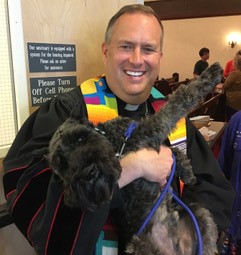 Rev. Dr. Paul W. Knappenberger - Sr. Pastor
Dr. Paul Knappenberger began his ministry at St. John's in April 2005. He is the 11th senior pastor to serve the church. He was born and raised in Allentown, PA. He is a 1990 graduate of Lock Haven University and graduated from Lancaster Theological Seminary with a Master of Divinity degree in 1993. In 2009, he graduated with his Doctor of Ministry degree in the renewal of the church for mission from Palmer Theological Seminary.                                                  
He previously served two congregations. From 1993-1997, he served in the inner city at Salem United Church of Christ in Harrisburg, PA., and from 1997-2005 he served at Pennsburg United Church of Christ in Pennsburg, PA.
He enjoys all aspects of parish ministries. His passions include preaching and leading worship, missions, and church transformation. He has served the denomination on all levels and has been involved with several national boards and committees. He also has served on various conference and association committees. He currently is on the board of the Lehigh Conference of Churches.
His hobbies include spending time with his family, lifting weights and reading (especially history and philosophy) -- and he is a passionate fan of the Philadelphia Eagles and Phillies.
Dr. Knappenberger is married to Dr. Kristine Knappenberger who is an optometrist in Allentown. They have a daughter named Rachel, who is a student studying vocal performance at Indiana University Bloomington.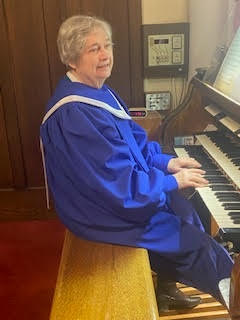 Director of Music - Gerry Mosemann
Gerry is a long-time member of the church. She is a graduate of Lebanon Valley College. She has been our church Organist since 2014. Gerry is truly a gifted musician. She directs the choir and the bell choir and leads all the music in our services. She is a retired East Penn School District music teacher.

Office Administrator - Diane Ritter
Diane is a long-time member ot the church. She is a proud graduate of Catawba College, which is one of our UCC schools. She has two daughters and a son-in-law and two grandchildren, with whom she enjoys spending time. She loves reading and following the Dallas Cowboys (which brings tension in the church office since the pastor is an Eagles fan).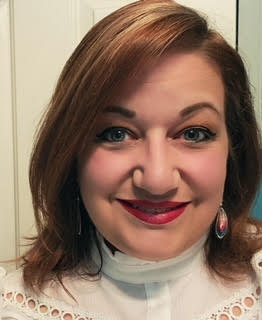 Director of Christian Education - Kirsten Almeida
Kirsten Almeida moved to the Lehigh Valley in 2007. She became a member of St. John's UCC in 2015 with her husband, Michael. She has helped provide music for various church services and most recently became a member of the consistory. Kirsten has been an arts educator for more than 20 years and has a proven track record working with children. She is honored to take on the role of Director of Christian Education. Her main goal is nurturing current students while welcoming new students.  Her educational motto is Lead with love and kindness.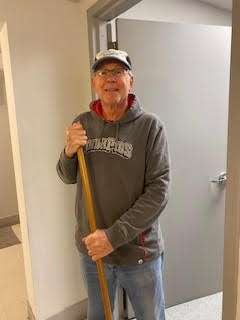 Sexton - Tom Gable
Tom is a long-time member of the church. He has been our sexton since 2018. Tom was the head of custodians at Emmaus High School for many years. Tom can fix practically everything.
2022 Committee List, Chairpersons and Members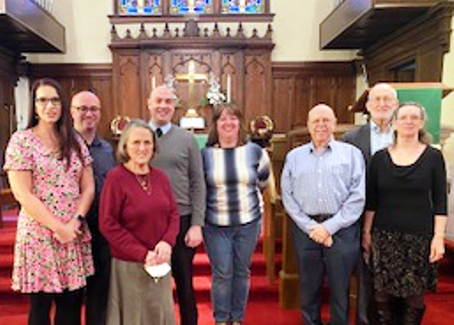 Altar Guild – Sue Smullin, Chairperson
The Altar Guild enhances the worship experience by preparing the Communion Elements, caring for the chancel paraments, creating visual reinforcement of the message, providing seasonal decoration and other creative activities.
Board of Christian Education – John Hill, Chairperson; The Board of Christian Education (BOCE) administers the Christian Education ministry for children and adults. This includes Sunday School and Vacation Bible School.
Budget & Finance – Open, Chairperson
The Finance Committee manages the financial resources of the church, prepares an annual budget and assists the Stewardship Committee in raising awareness of our need to support God's church.
Building & Property – Marty Beers & Tom Gable, Co-Chairpersons
The Property Committee is charged with the maintenance and upgrading of our physical buildings and surrounding grounds. 
By Laws – Paul Knappenberger, Chairperson 
Consistory – The Consistory is the governing body of the Congregation.  This group of four (4) Elders and eight (8) Deacons are elected by the Congregation to serve two-year terms.  They are charged with overseeing and coordinating the ministry and mission of the church.

Decorating – Sue Smullin, Chairperson 
Eucharistic Ministry – Paul Knappenberger, Advisor 
Evangelism – Angie Dillman, Chairperson
Executive – Consistory Officers 
Fund Raising – Kim Ike, Coordinator
The Fund-Raising Committee plans and implements creative fund-raising activities to support the capital expenditures of the church.
Hospitality – Nancy Wieder, Chairperson
Insurance – Richard Dillman, Chairperson 
Kitchen – Don Kaufman, Chairperson 
Lutheran & Reformed Cemetery – Glenn Deischer, Liaison 
Mission – Linda Roosa Chairperson
Feeding the hungry, responding to natural disasters, caring for the needy and exploring ways to benefit the environment are just a sampling of the issues focused on by the mission committee of St. John's. The committee organizes a variety of missions generously supported by St. John's congregation throughout the year. They include helping homeless people in the Lehigh Valley, purchasing blankets for people in need around the world, making and filling school bags for children in other countries, supporting the Emmaus food bank, and providing materials to help young mothers and their newborns
Nominating Committee – Richard Dillman, Chairperson 
Office & Personnel – Craig Demmy, Chairperson; Karl Geschwindt
Security & Safety – Richard Dillman, Chairperson 
Special Gifts – John Zayaitz, Chairperson 
Spiritual Council – 
Stewardship – Deacons 
Under shepherd Ministry – Nancy Wieder, Chairperson 
Website – Angie Dillman, Chairperson 
Worship & Music – Open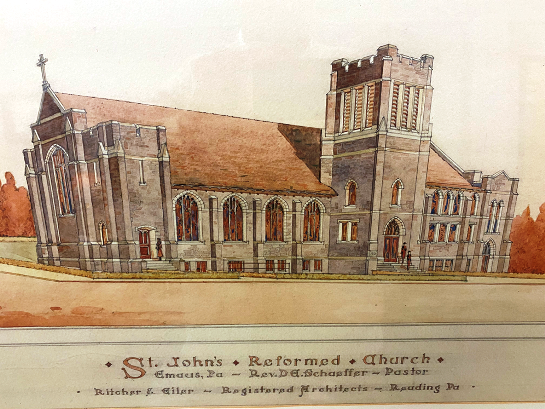 History of St. John's United Church of Christ
In January of 1876, approximately sixty people of the Reformed faith organized a Reformed congregation in Emmaus. The young congregations of the Reformed and Lutherans faiths consecrated a union in early 1882.
The two congregations dedicated their new church located at the corner of North Third Street and Green Alley on November 12, 1882. Our congregation worshipped there for thirty-eight years and then built a new large Gothic structure made of Seisholtzville granite at the corner of North Fourth Street and North Street. Dedication for the new building was on May 4, 1924.
In June of 1934, the Reformed Church merged with the Evangelical Synod of North America forming the Evangelical Reformed Church. Then in June of 1957, another merger took place with the Congregational Christian Churches forming the United Church of Christ.
With a growing Membership, the congregation decided to erect a Christian Education wing in 1963.
On Sunday, January 19, 2003, the congregation celebrated the completion of the $1.9 million renovation project with a dedication program.
Senior Pastors
Rev. Alfred J.G. Dubbs - 1876-1886
Rev. Charles E. Schaeffer - 1892-1896
Rev. P.A. Delong - 1897-1899
Rev. Joseph P. Bachman - 1900-1908
Rev. John B. Stoudt - 1909-1911
Rev. Daniel E. Schaeffer - 1911-1937
Rev. Royce E. Schaeffer - 1938-1968
Rev. David H. Knoebel - 1969-1985
Rev. Glenn A. Hagen - 1987-1989
Rev. Dr. William C. Fenstermacher 1993-2002
Rev. Dr. Paul W. Knappenberger 2005-present